HOME >
The Nihombashi Miyoshikai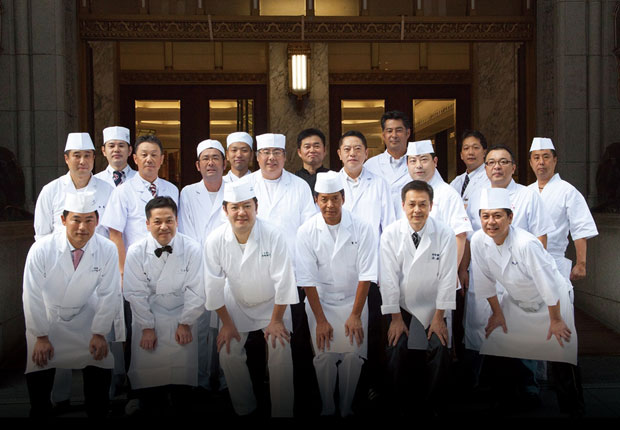 The Nihombashi Miyoshikai
---
The Miyoshikai is a youth group of associations of eating and drinking establishments in Nihombashi that consists of young proprietors of restaurants that carry on tradition in Nihombashi. It started when members of our parents' generation were still young, and celebrates its fifty-fifth anniversary this year. The types of dishes they serve their customers may range from sushi to soba, tenpura, eel, and Western food, but one thing they all have in common is that they love Nihombashi. The members that are currently active are very close as there are many who grew up and played together when they were children. They also take pride in their solidarity and ability to take action.
In addition to study meetings on subjects such as management, the Miyoshikai also holds activities in collaboration with the local community. For example, in spring they set up stalls at the cherry blossom festival held on Nihombashi Muromachi's Edo Sakura Street and serve tuna dishes usually not listed on the menu, and in autumn make scattered sushi together at the Nihonbashi Mitsukoshi Main Store.
They are also involved in dietary education for children. Products such as eel and sushi are now available at supermarkets but the Miyoshikai wants people to know from childhood what they taste like when carefully prepared at restaurants that specialize in these foods. In some cases, they even try to have children develop such a delicate sense taste that they can even distinguish between similar flavors.
It is the hope of the Miyoshikai to present guests to Nihombashi with authentic flavors and to continue conveying from Nihombashi how fascinating the world of food can be.
Mr. Ichiro Sakuma, Chairman of the Miyoshikai
---