HOME >
The town where interactio・・・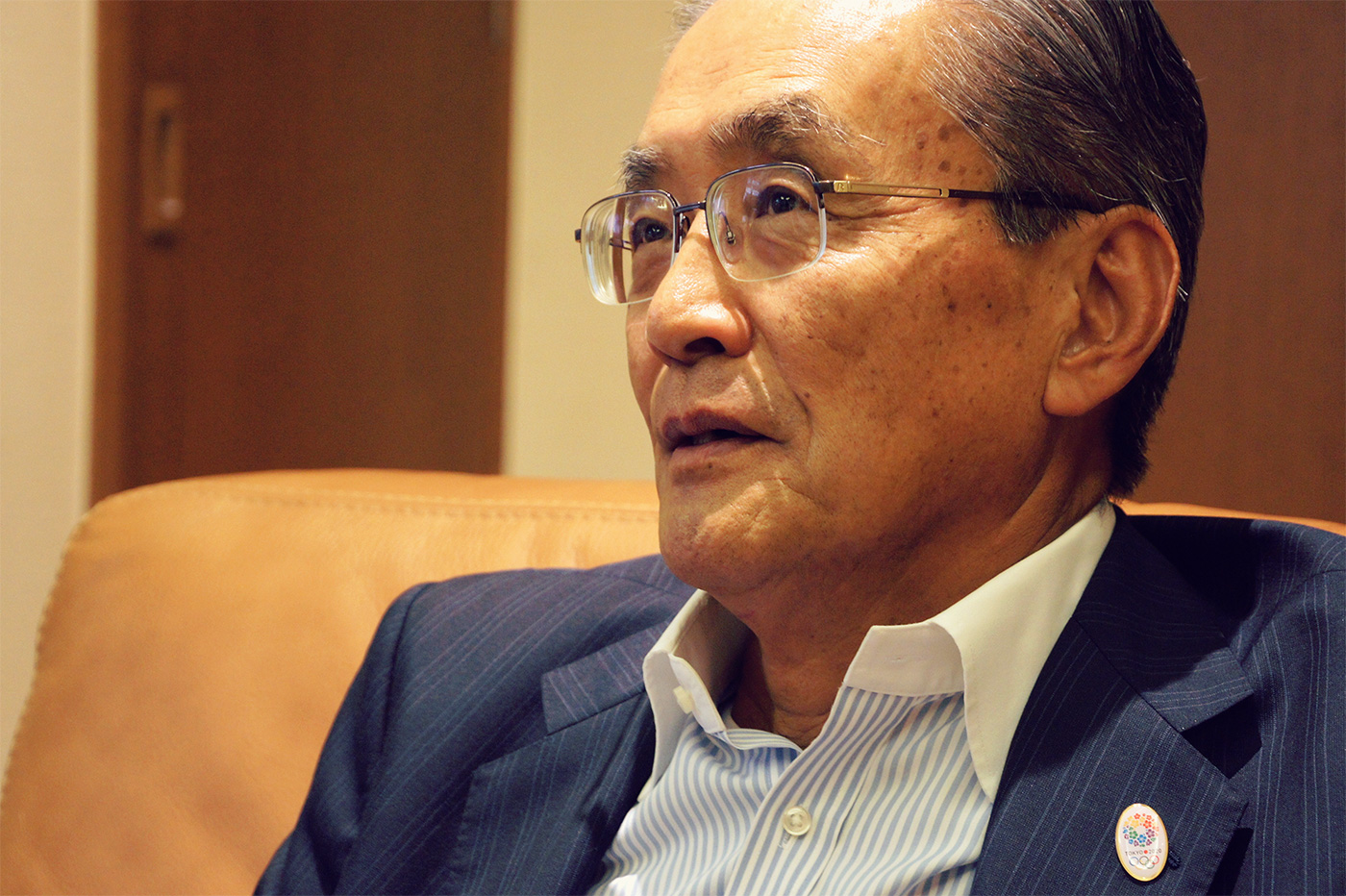 The town where interactions between people are vibrant
Nihonbashi Kodenmacho / Nihonbashi Odenmacho / Nihonbashi Kobunacho / Nihonbashi Horidomecho / Nihonbashi Tomizawacho / Nihonbashi Ningyocho 1-Chome
Mr. Teruyuki Hirano, Chairman of the Nihonbashi Ninobe Town Council Association
---
Helping each other in times of need
Nihonbashi is the town where interactions between people are vibrant. I am not a true "son of Nihonbashi", but I grew to love engaging in Town Council affairs before I knew it. This might be because I have seen a deep attachment that shop owners of Kobunacho and their predecessors had for their town as they helped out customers in need without seeking profit.
We are not just a gathering of senior citizens. We try to teach young people to respect their history and to have the backbone to pass on tradition. For example, the "Ha Group"*, which has been in continuation since the Edo period, takes the lead when scaffolds are set up at Town Council festivals and Bon dance events. We also have young people carry on traditional scaffolding builder performances such as singing Kiyari songs while carrying lumber and climbing tall ladders.
*One of the groups of firemen established in Edo in 1718. There were forty-eight groups of firemen consisting of scaffolding builders, who were dedicated firemen during the Edo period when there were many fires.
---
The giant lantern that has been here for 350 years
Looking after the giant lantern dedicated to Sensoji Temple in Asakusa is one way of carrying on tradition. Sensoji Temple has a giant lantern at Kaminarimon Gate and at Hozomon Gate, but the giant lantern hung at Hozomon Gate dedicated by Nihonbashi Kobunacho has a longer history. It is said that religious followers from around the waters by the fish market at Nihonbashi dedicated it in 1657 as a sign of their faith. By the way, the dedicating of the giant lantern at Kaminarimon Gate was started by the "god of management" Konosuke Matsushita; founder of the leading Japanese home appliance manufacturer Panasonic, and the company continues to look after it to this day.
The giant lantern is 3.9 meters in height. It is also 2.7 meters in circumference so it takes two fully-grown adults to encircle it hand-in-hand. A new one will be dedicated this year for the first time in eleven years. It will cost five to six million yen as Kyoto is the only place where a lantern this size can be made. It will be unveiled at a festival at Yakumo Shrine in September with help from the townspeople, companies, and those who have a fondness for Nihonbashi Kobunacho. It is then scheduled to be dedicated to Sensoji Temple on October 5. At the dedication ceremony at Sensoji Temple, we will be formally dressed and proceed slowly down the street like a Kabuki actors. I feel a little embarrassed doing it, but this is a form of traditional culture. I also think that being able to preserve this spirit and history that is over three hundred and fifty years old down to the twenty-first century is one feature of the town of Nihonbashi.
---
Now is the time to enjoy the nostalgic aroma of dried bonito
When I first started working in Nihonbashi Kobunacho in the 1950's, it was still quite reminiscent of the "bonito riverbank" during the Edo period. As its name suggests, the area was lined with dried bonito*1 wholesalers and in the daytime, you could see mats everywhere with bonito on them being dried under the sun. When aged bonito is scraped with a brush, you could see powder flying everywhere, spreading the smell of dried bonito. I used to think that this town had an unpleasant fishy smell, but this smell now brings me feelings of nostalgia.
Nihonbashi Kobunacho is where Zenjiro Yasuda, founder of one of Japan's megabanks, Mizuho Financial Group, started his dried bonito wholesaling / money changing business. There is a legend stating that he started it when he found a golden Ebisu (god of fishing and fortune) statue. The Kobunacho Branch of Mizuho Bank currently stands where Zenjiro set up his business and its staff helps us out every year during festivities such as a kagami-biraki ceremony*2 in January. The placing of importance on connections with the area not only by its residence but also by companies based here is another fine tradition of Nihonbashi.
As with all areas in Nihonbashi, the Ninobe area is dotted with places that continue to preserve history and tradition. All of the companies involved in dried bonito have moved on elsewhere, but the townscape is still lively as there are still those that are descendent from shops in wholesale districts dealing in medicine and clothing. Walking the streets while imagining the scenery of the bygone days is one of the pleasures here.
*1 A processed food product made of fermented bonito. Bonito flakes, which are made with a plane-like shaving tool is a main ingredient in broth that is indispensable to Japanese food.
*2 An annual Japanese ceremony where rice cakes offered to Shinto and Buddhist gods are brought down and eaten during the New Year.
---
Tourist spots in the Ninobe area
Toki-no-Kane Bell Tower

During the Edo period, bells were rung to tell people the time. This Toki-no-Kane Bell Tower was located in Kokucho (now the Nihonbashi Muromachi 4-Chome area) and stands at 1.7 meters tall and 93 centimeters in diameter.

Location: 5-2, Nihonbashi Kodenmacho, at Jisshi Park
Access: 1 min. by walk from Kodemmacho Station on the Tokyo Metro Hibiya Line

Suginomori Shrine Tomizuka

The Tomikuji to the people of Edo is what the lottery is to us today and was very popular. The Tomikuji at Suginomori Shrine was one of the three Shrine lotteries of Edo and was a major event. The stone monument in the photo was placed there in 1919 in remembrance of the laughing and crying of the common people of Edo.

Location: 10-2, Nihonbashi Horidomecho, at Suginomori Shrine
Access: 5 mins. by walk from Kodemmacho Station on the Tokyo Metro Hibiya Line, 7 mins. by walk from Ningyocho Station on the Toei Asakusa Line

Nihonbashi Ebisu-ko Bettara Market

Bettara daikon pickles have been enjoyed by many people since around the seventeenth century. It is said that Yoshinobu Tokugawa, the last shogun of the Tokugawa Shogunate, enjoyed eating them. The Bettara market in Nihonbashi started as a market in front of the gate of Takarada Ebisu Shrine on October 19, which is the day before offerings are made at the Ebisu-ko (a ritual for honoring the god of commerce Ebisu with relatives and associates at merchant homes) on October 20. 400 to 500 stalls are still set up each year and the festivities continue late into the night.

Dates and Times: October 19 - 20 each year from 12 p.m. until 9 p.m.
Location: The area leading from Takarada Ebisu Shrine (Nihonbashi Honcho 3-Chome) to Nihonbashi Odenmacho
Access: 4 mins. by walk from Kodemmacho Station on the Tokyo Metro Hibiya Line

Jusaburo-kan

This museum exhibits the latest dolls created by the representative doll artist of Japan Jusaburo Tsujimura, and sells related goods. It is also a doll-making studio.

Location: 3-6-9, Nihonbashi Ningyocho, Chuo-ku, Tokyo
Hours: 10 a.m. to 5 p.m. (admission until 4:30 p.m.)
Closed: Wednesdays, year-end and New Year's holidays
Tel: 03-3661-0035
Access: 2 mins. by walk from Ningyocho Station on the Asakusa Line and Tokyo Metro Hibiya Line
---
---