HOME >
A town where an old-estab・・・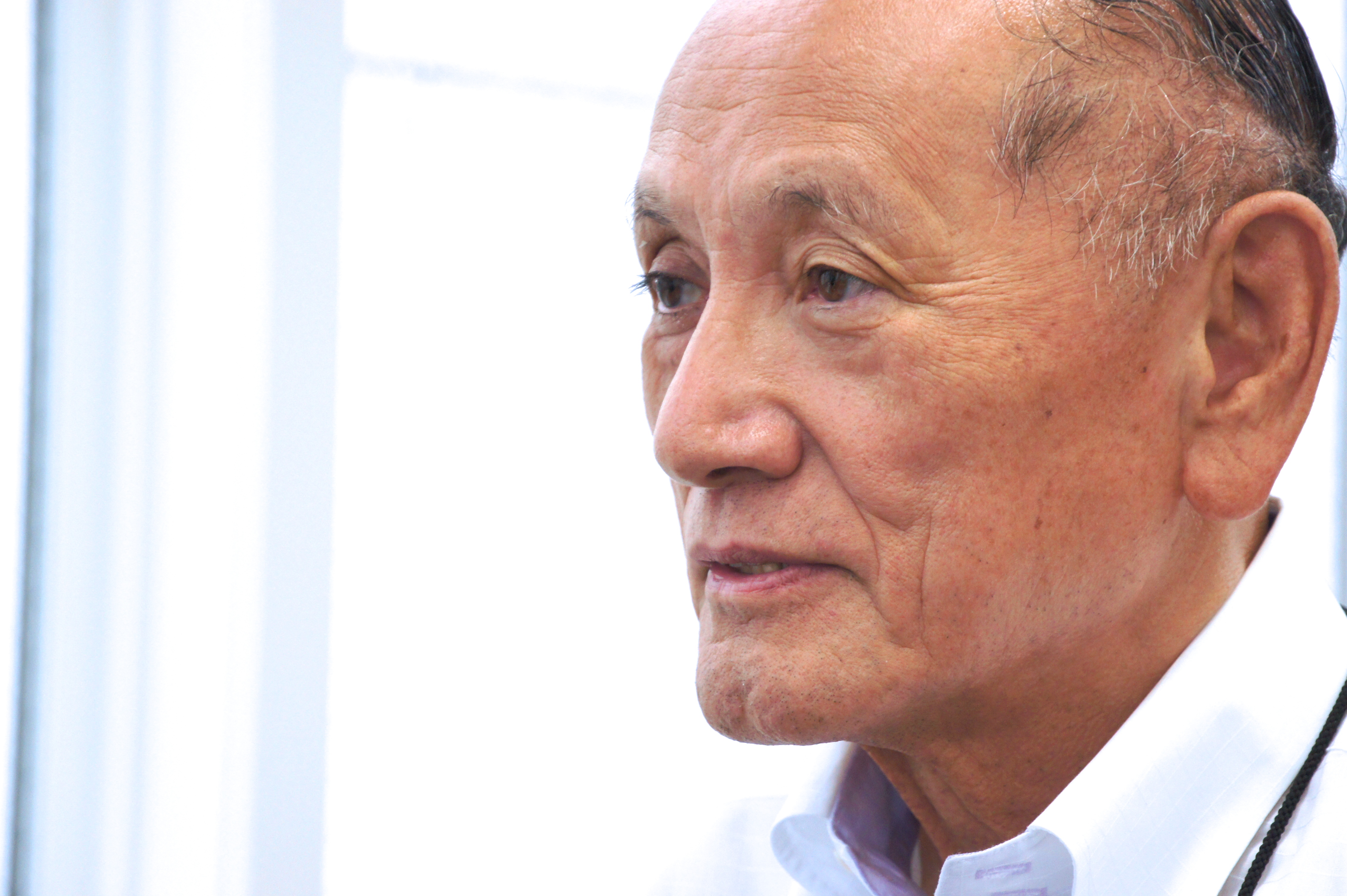 A town where an old-established shop of the twenty-first century is born
Nihonbashi 1-Chome - 3-Chome / Yaesu 1-Chome
Mr. Sadao Shimizu, Chairman of the Nihonbashi Rokunobe Town Council Association
---
Showa Dori is a recreation spot for kids
The first home I lived in ran an inn here called "Chiyoda Ryokan" from 1927 to 1971. Most of the guests were salaried workers here on business trips or negotiations who came to meet with drug makers or food companies in the offices of Nihonbashi. To them, it was like what we know now as a business hotel. Because it was an inn, we served them meals and let them have meetings and parties. One memorable experience was watching a director teaching people songs sung to the tunes of the shamisen* and giving shamisen lessons. These songs were a form of social intercourse for the officials at the time and this must have been a ritual for them.
*Short songs sung to tunes played by the shamisen. Cultural people also engaged in this activity since the mid-seventeenth century as it became widespread in Edo.
It was a place for the children of the town to play in when I was a child. After all, it was a time when there were public bathhouses along the main streets of Nihonbashi. Showa Dori did not have much traffic and you could hear shouts of "Yo!", calling friends out to play. And of course, there were no such things as high-rise buildings and expressways. We could see the fireworks at Sumida River very well from our home.
---
There are also places for salaried workers to get together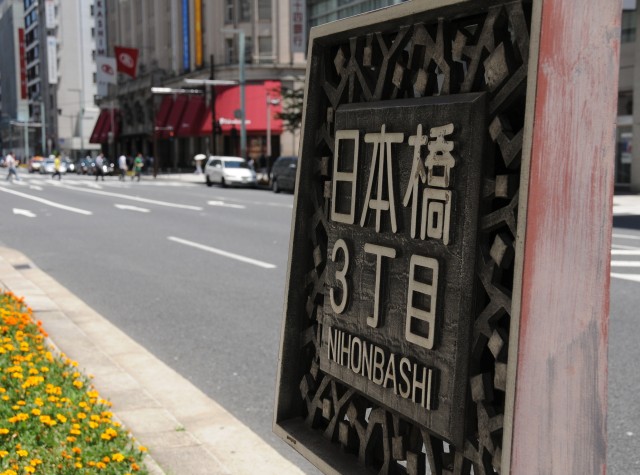 The area between Nihonbashi 1-Chome and 3-Chome is lined with office buildings and commercial buildings and the number of residents has decreased greatly. There is no choice but to accept this because this is the flow of the times, but the liveliness of the streets depends on the people here. A town where there are no interactions between people is a town with no vigor.
It is not only the residents who are associated with the area. People who work at the local companies here are also associated with it. The Rokunobe Town Council holds a Clean Day once a month to clean the streets and we ask the local companies for their assistance. Clean Day has already been held about a hundred times up to now and there were only five or six company employees at first, but that number has grown to thirty-five or thirty-six. Thanks to everyone's help, the neighborhood has become a cleaner place and people now approach each other when they meet on the streets.
---
Momiji Dori, which conveys the history of Momiji River.
A river known as the Momiji River once flowed down the area between the current Edobashi Junction on the Inner Circular Route and the Kyobashi Junction. Maple trees were planted along Momiji Dori a few years ago to preserve its history. The trees are still young, but we hope that they will one day spread out their green colors and represent autumn with red leaves to add life to the town when they grow. Plans for opening a market that sells works of art by pottery artists as well as local goods along Momiji Dori are also underway.
Another thing I anticipate for this area is the establishing of old-established twenty-first century shops. An old-established shop is not just any shop with a long history and tradition. It is important to be run by an owner that everyone wants to visit. The establishing and developing of such shops leads to the ongoing history of Nihonbashi.
---
Tourist spots in the Rokunobe area
Nihonbashi

A bridge that spans over the Nihonbashi River in Tokyo's Chuo Ward. A bridge that was built as part of the improvement plan for national routes by Ieyasu Tokugawa, who founded the Tokugawa Shogunate in 1603. The current bridge is the nineteenth one (constructed in 1911) and it is a specified important cultural property. At both ends of the bridge are statues of lions with the symbol mark of the city of Tokyo and at the center is a mythological giraffe. The giraffe of Nihonbashi has wings that do not appear in legend represents the capital city rapidly progressing.

Location: 1-1 saki, Nihonbashi, Chuo-ku, Tokyo
Access: 1 min. by walk from Mitsukoshimae Station on the Tokyo Metro Ginza Line

Road Origin Marker of Japan

Since 1981, the local and nearby residents of Nihonbashi have gathered once a year to give the Nihonbashi Bridge a thorough cleaning.

Location: 1-1 saki, Nihonbashi, Chuo-ku, Tokyo
Access: 1 min. by walk from Mitsukoshimae Station on the Tokyo Metro Ginza Line

Takashimaya Nihonbashi Store

Traces of Japanese architecture among magnificent Western styles of architecture can be seen in the main building, which was built in 1933 under the concept of "modern art based on the interests of the East". It has undergone extension work over a period of thirty years, but it is well-balanced in design and was the first department store to be designated as a nationally important cultural property for its architecture. Inside are many sights to see such as the elevators with accordion gates that were made during the construction of the building.

Location: 2-4-1, Nihonbashi, Chuo-ku, Tokyo
Access: 4 mins. by walk from Nihombashi Station on the Tokyo Metro Tozai Line, 5 mins. by walk from the Yaesu exit at JR Tokyo Station

Nihonbashi Pier

A boat dock that was completed in April 2011 at the far end of Nihonbashi to convey the municipal functions of Edo, which once flourished as a city of water transport. It is a very popular "watery path" among tourists as a starting point for trips to the tourist spots in Tokyo with its various types of boats in addition to the packet boats that come and go to and from Asakusa.

Location: 1-9, Nihonbashi, Chuo-ku, Tokyo
Access: 1 min. by walk from Mitsukoshimae Station on the Tokyo Metro Ginza/Hanzomon Line, 2 mins. by walk from Nihombashi Station on the Tokyo Metro Ginza/Tozai Line

Stone Marker at Ikkokubashi for Lost Children

A notice board for the common people built in 1857. It is for people who are looking for someone by writing their characteristics (age, facial features, appearance, footwear, the clothes that they are wearing, etc.) on paper and attaching it to the notice board. Anyone who has seen someone who fits this description can then notify the concerned party.

Location: 1-11 saki, Yaesu, Chuo-ku, Tokyo
Access: 3 mins. by walk from Mitsukoshimae Station on the Tokyo Metro Ginza Line
---
---