HOME >
The town that was reborn ・・・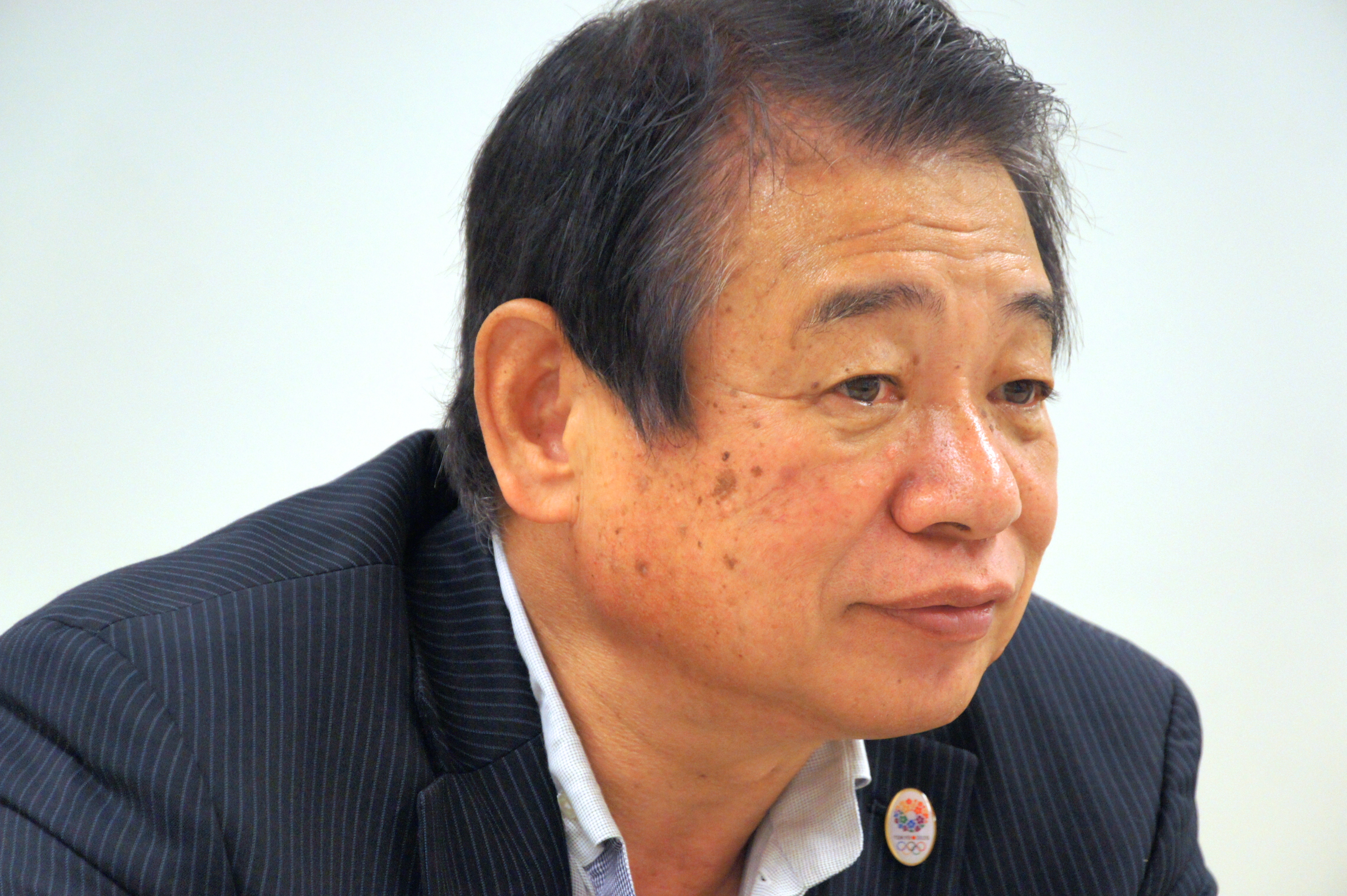 The town that was reborn three times
Nihonbashi Hamacho / Nihonbashi Hisamatsucho / Nihonbashi Nakasu
Mr. Shinji Takahashi, Chairman of the Nihonbashi Gonobe Town Council Association
---
From a samurai town to a stylish town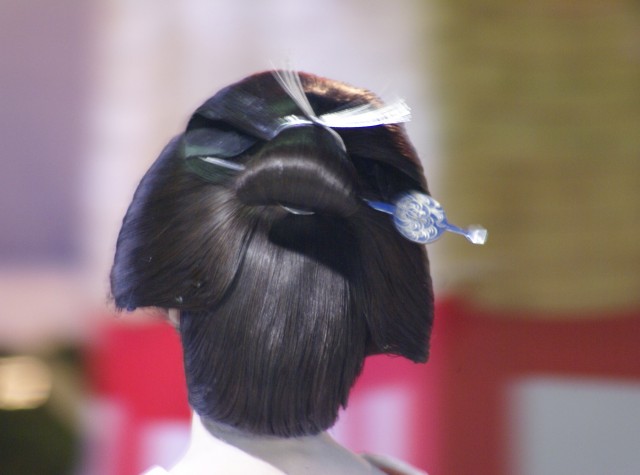 The Nihonbashi Hamacho area has changed greatly three times.
The town of Hamacho was a town of samurai warriors and was lined with residences of feudal lords during the Edo period. There used to be merchant homes in some parts of today's Nihonbashi Hisamatsucho, but there were many shops that sold long and short swords, too. I think it was a quiet neighborhood of common people that was quite different from the lively downtown area of the nearby Ningyocho, where craftsmen lived. It is said that the residences of the Kasama Clan had storehouses where the Shogunate kept its gold coins. This was probably a top-secret affair. To this day, nobody knows the exact locations of the residential storehouses.
The Hamacho area underwent a complete change along with the falling of the Tokugawa Shogunate. The land where the daimyo residences stood was handed over to the people in 1871, when the feudal system ended after about 260 years after its establishment. It is the prestigious Japanese restaurants and similar establishments that were built on these grounds. The colorful dining culture where wealthy merchants enjoy themselves with geishas got its start here.
---
The dining culture emerging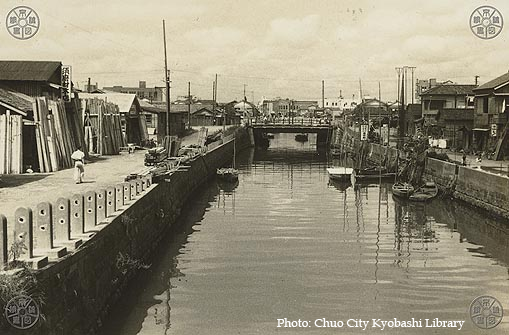 There was a canal known as the Hamacho River between Nihonbashi Hamacho and Nihonbashi Ningyocho before the land was filled in 1972, and it is said to have been popular as the starting point of sightseeing trips down Sumida River. It was famous all throughout the country as a stylish and luxurious town, and there were over two hundred and fifty geishas and almost a hundred restaurants during its peak. It was thirty five years ago when I became acquainted with Nihonbashi Hamacho and I can still remember the elegant scenery of fine restaurants surrounded by the black walls. By the way, the geishas in this area that was known as Yoshicho back then were known to be stylish, lively, and skilled at their trade. This attracted many famous, successful, and wealthy business owners who patronized the establishments where they worked. Sadayakko, who was the first Japanese actress, also used to be a geisha from Yoshicho.
With the revising of town names in 1977, the name Yoshicho began to disappear along with the successful businessmen, the geishas, and the fancy restaurants. The only remaining fancy restaurant that remains from this era is Hamada-ya, which has been in business for over a hundred years, and there are now only a dozen or so geishas.
*A board fence with a mixture of persimmon juice, ash, and coal applied to it, found at establishments such as fancy restaurants. The scenery with deep black walls lined next to each other was a symbol of stylishness.
---
A townscape where the appeal of both the new and old meet
The Hamacho area suffered great damage during the Great Kanto Earthquake of 1923, but the huge 33 meter-wide Kiyosubashi Street was formed between Kiyosu Bridge and Asakusa Bridge; becoming the pride of the downtown district. Hamacho Park along the Sumida River is the largest park in Chuo Ward. In 1929 the remains of the residence of the Hosokawa daimyo family from Kumamoto was renovated and opened as a popular hall among the local people for activities such as strolling, exercising, and holding Oedo Festivals.
Fureai-no-Hana
The townscapes of today's Nihonbashi Hamacho and Nihonbashi Hisamatsucho area are unique in that they have buildings, homes, and busy shopping streets all nearby each other. These are interesting neighborhoods where you may find a shop at the end of an alley offering Japanese sweets handmade by an old men who is insistent on making sweets his own way, a modern café standing right next to a retro-style restaurant, and so on.
Condominiums are now being built over the ruins of daimyo residents and fancy restaurants with a growing number of young married couples and their children. It is nice to know that there is a growing number of people who have lived here for a long time and those whose children have grown up showing an interest in town activities. In fact, this area suffered so much damage during the air raid on Tokyo in 1945 that not a single home was left standing. Now, a mass known as "Fureai-no-Hana" for sending out messages to victims including casualties of the 2011 Tohoku Earthquake and Tsunami is being held. When reading these messages written by children, one cannot help but hope that this town will remain peaceful forever. As Chairman of the Town Council Association, it is my hope that the special characteristics of this area facing Sumida River can be acknowledged. I want to take part in its promotion by utilizing the course of the river and conveying how nice the strolls through this area are and that there are plenty of delicious foods to eat here when simply seen from its waters.
---
Tourist spots in the Nihonbashi Gonobe area
Suitengu

Suitengu Shrine has attracted many worshippers hoping for the safe delivery of children and pregnancy since the Edo period. Today, it continues to attract married couples who pray for pregnancy and those who are grateful for having given safe births. Good luck charms such as wooden pictorial offerings with drawings of dogs and their puppies drawn on them as dogs are known to have easy deliveries, and masks of water imps* for protection from floods and other dangers make the perfect gifts. The official shrine is located in Nihonbashi Kakigaracho, but due to restoration work on its pavilions, the shrine in Nihonbashi Hamacho temporarily serves as the main shrine until 2017.

Location: 2-30-3, Nihonbashi Hamacho, Chuo-ku, Tokyo
Access: 1 min. by walk from Hamacho Station on the Toei Shinjuku Line, 7 mins. by walk from Suitengumae Station on the Tokyo Metro Hanzomon Line, 7 mins. by walk from Ningyocho Station on the Tokyo Metro Hibiya Line, 10 mins. by walk from Ningyocho Station on the Toei Asakusa Line

Hamacho Pedestrian Path

A pedestrian path through the ruins along the Hamacho River. It serves as a spot for rest and relaxation among the nearby residents and company employees. There is a promenade where you can feel history and culture, ruins of the homes of doctors that contributed to the resurgence of Chinese medicine in the 1870's, previously three make shift playhouses and a Benkei statue that stands here as it was the birthplace of Edo kabuki.

Location: Around Nihonbashi Ningyocho 2-Chome, Chuo-ku, Tokyo
Access: 5 mins. by walk from Suitengumae Station on the Tokyo Metro Hanzomon Line, 5 mins. by walk from Ningyocho Station on the Tokyo Metro Hibiya Line

Meijiza

Built in 1873, it is one of the three representative theaters of Tokyo. The performances originally centered on Kabuki plays, but now it is a theater where you can see historical plays and shows presented by Enka singers. The lobby looks like an art museum with its many paintings on display. The original goods available here are also popular with visitors.

Location: 2-31-1, Nihonbashi Hamacho, Chuo-ku, Tokyo
Access: Near Suitengumae Station on the Tokyo Metro Hanzomon Line

Kiyosubashi

It is a suspension bridge that stretches across Sumida River and was built in 1928. It was modeled after the bridge of Koln on the Rhine River in Germany, which is said to be the most beautiful suspension bridge in the world, and is known for its graceful silhouette. It is also gorgeous when lit up at night. From here you can see the Tokyo Skytree at the center.

Location: Nihonbashi Nakasu, Chuo-ku, Tokyo (west bank)
Access: 7 mins. by walk from Suitengumae Station on the Tokyo Metro Hanzomon Line
---
---