HOME >
The town whose concentrat・・・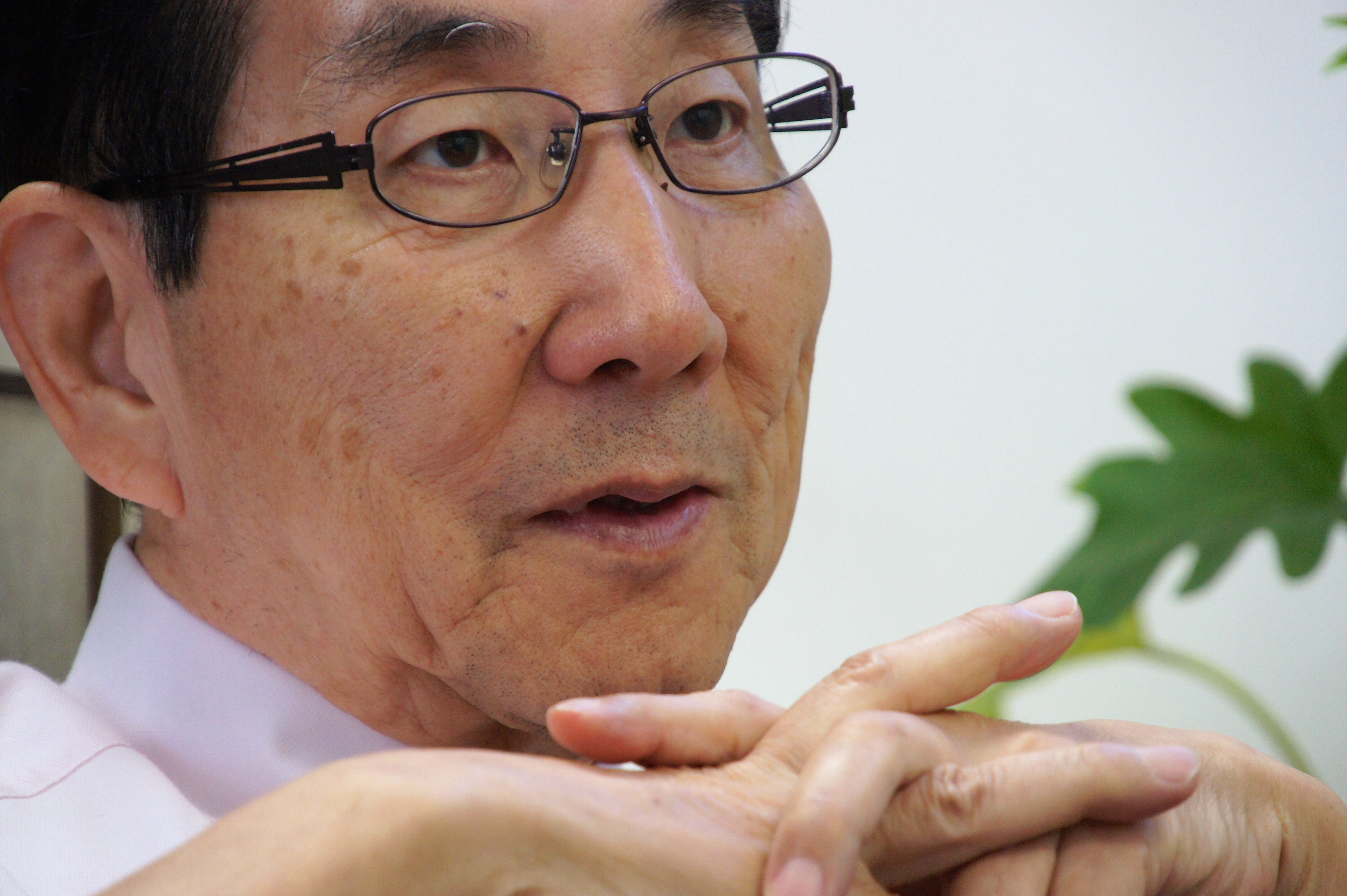 The town whose concentration of shops are its advantage
Nihombashi Bakurocho / Nihombashi Yokoyamacho / Higashi Nihombashi
Mr. Hiroshi Iwata, Chairman of the Nihombashi Yonnobe Town Council Association
---
Unique wholesale dealer streets that have been here for over 150 years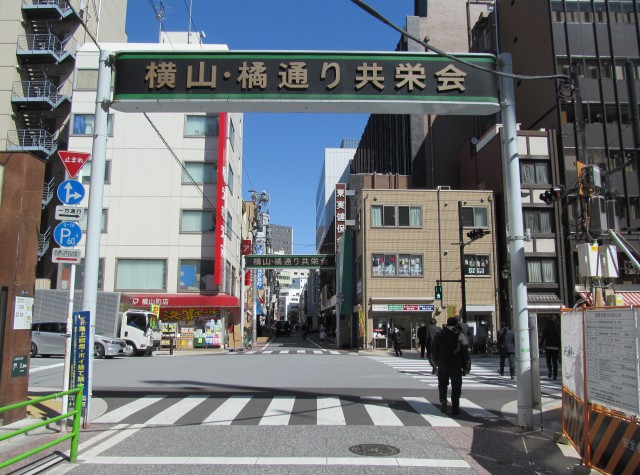 The record shows that the Nihombashi Yokoyamacho area established its base as a wholesale dealer street in the late 18th century and had over 140 shops by the late Edo period in the mid 19th century. Although its leading product changed from sundry goods in the Edo period to little items of Kimono in the Meiji and Taisho era and to inner and outerwear in the postwar era, Yokoyamacho remained a wholesale dealer street for over 150 years. There is no other place in Japan apart from Osaka's Funaba which has as many wholesalers of fibrous goods as this town. Nihombashi Yokoyamacho is a highly unique town not only in Nihombashi but also in the whole of Japan.
Seeing the street lined with wholesale stores selling knit products and garments, some may feel concerned if these shops are making money. On the contrary, that is this town's advantage. Even though the product comes under the same "garments", each shop handles slightly different products. And because each shop is unique, when they operate on the same street, it can attract more customers. From the perspective of retailers who come to Nihombashi Yokoyamacho, they can expect to purchase what they want from a wide range of product choices.
---
DNA etched in the wholesale dealer street
I lived in this town from when I was in primary school through to University, so this is truly my hometown. I know many of the shop owners here from a long time ago, which means that there are many people who have been active in this town for many years. Nihombashi Horidomecho, which used to have many large drapers has completely changed with the decline of kimono. But Nihombashi Yokoyamacho, though the number of shops itself has seen a decline, is still alive and well, and so is its tradition.
One of such traditions is "Serving for Yokoyamacho". It is an organization launched by the shop owners of Yokoyamacho in 1933. The group worked hard during the Great Depression that began in 1929 to realize competitive prices and services when the wholesalers were faced with the risk of bankruptcy, also for the sake of nationwide retailers. Although the name of the organization sounds rather old fashioned, it is engaged in a range of activities including setting up of websites, promoting shopping street revitalization projects in cooperation with University, installing Wi-Fi in the shopping street and many others.
---
Attracting attentions from overseas buyers
Recently we are seeing an increasing number of buyers from overseas, mainly China, probably because Japanese garments are popular among overseas customers for their good quality. Some buyers even request to have a "made in Japan" tag printed in Chinese character instead of alphabets. With a hotel with Ninja motif built to attract foreign tourists and some shops accepting a group of foreign tourists on a shopping tour, the current of internationalization has also reached Nihombashi Yokoyamacho.
In this age of globalization, there is a question whether the wholesalers' basic stance of "Laymen unwelcome" should be maintained. It is a difficult question but at least the town should be open to business starters, and the shops could use, for example, the first and the second floor for business customers and open the third and the fourth floor to ordinary customers. It is my hope that many more motivated people come in and start business here so that the street grows larger.
---
Tourist spots in the Nihombashi Yonnobe area
Yokoyamacho Cash Wholesale Dealer Street

The biggest cash wholesale dealer streets in Japan surrounded by the three main streets of Edo Dori, Kiyosubashi Dori, and Yasukuni Dori. About 1,500 trading houses and shops line the streets and visitors are sure to find what they are looking for as far as it is concerned with garments, fibrous goods, or accessories. Most shops do not sell to non-business customers but it is fun just to stroll around the town filled with enegy. These shops do open their doors to ordinary shoppers at the time of "Oedo Wholesale Dealers Festival".

Location: Nihombashi Bakurocho, Yokoyamacho Shinmachi Dori, and others in Tokyo's Chuo Ward.
Access: 1 min. by walk from Bakuro Yokoyama Station on the Toei Shinjuku Line, 5 mins. by walk from Higashi-nihombashi Station on the Toei Asakusa Line, 5 mins. by walk from Kodemmacho Station on the Tokyo Metro Hibiya Line, 1 min. by walk from Bakurocho Station on the JR Sobu Rapid Line, 5 mins. by walk from Asakusabashi Station on the JR Sobu Line.

Oedo Wholesale Dealers Festival

A wholesale dealer street's big bargain sale held in the first Sundays of July and December. A crowd of people come to shop at the streets which are usually not open to ordinary customers and purchase goods at wholesale prices. In addition to shopping, visitors can enjoy entertainments on the streets such as a jazz / samba parade and food stalls. A stamp rally is also held where visitors can receive a commemorative gift when they shop at participating stores.

Location: Nihombashi Yokoyamacho Shinmachi-Dori, Chuo-ku, Tokyo
Dates: First Sundays of July and December
Hours: 9 a.m. to 4 p.m.
Access: the same as Yokoyamacho Cash Wholesale Dealer Street

Yagenbori Fudoson Temple

A branch temple of Kawasaki Daishi (at Kawasaki city Kanagawa prefecture), which is famous as a temple that has the power to ward off evil spirits. Daishi refers to Kobo Daishi Kukai, who introduced Shingon esoteric Buddhism in Japan, which was a progressive Buddhism teaching at the time. The temple was built in 1585 and became a branch temple of Kawasaki Daishi from 1892. It is known as one of the three Edo Fudo together with Meguro Fudo (Tokyo's Meguro Ward) and Mejiro Fudo (Tokyo's Toshima Ward). Every year between December 27 and 29 at "Year-end Fudo", New Year decorations are sold at the stalls set up in the temple's complex.

Location: 2-6-8, Higashi Nihombashi, Chuo-ku, Tokyo
Access: 3 mins. by walk from Higashi-nihombashi Station on the Toei Asakusa Line, 5 mins. by walk from Bakuro Yokoyama Station on the Toei Shinjuku Line
---
---