HOME >
The town that developed w・・・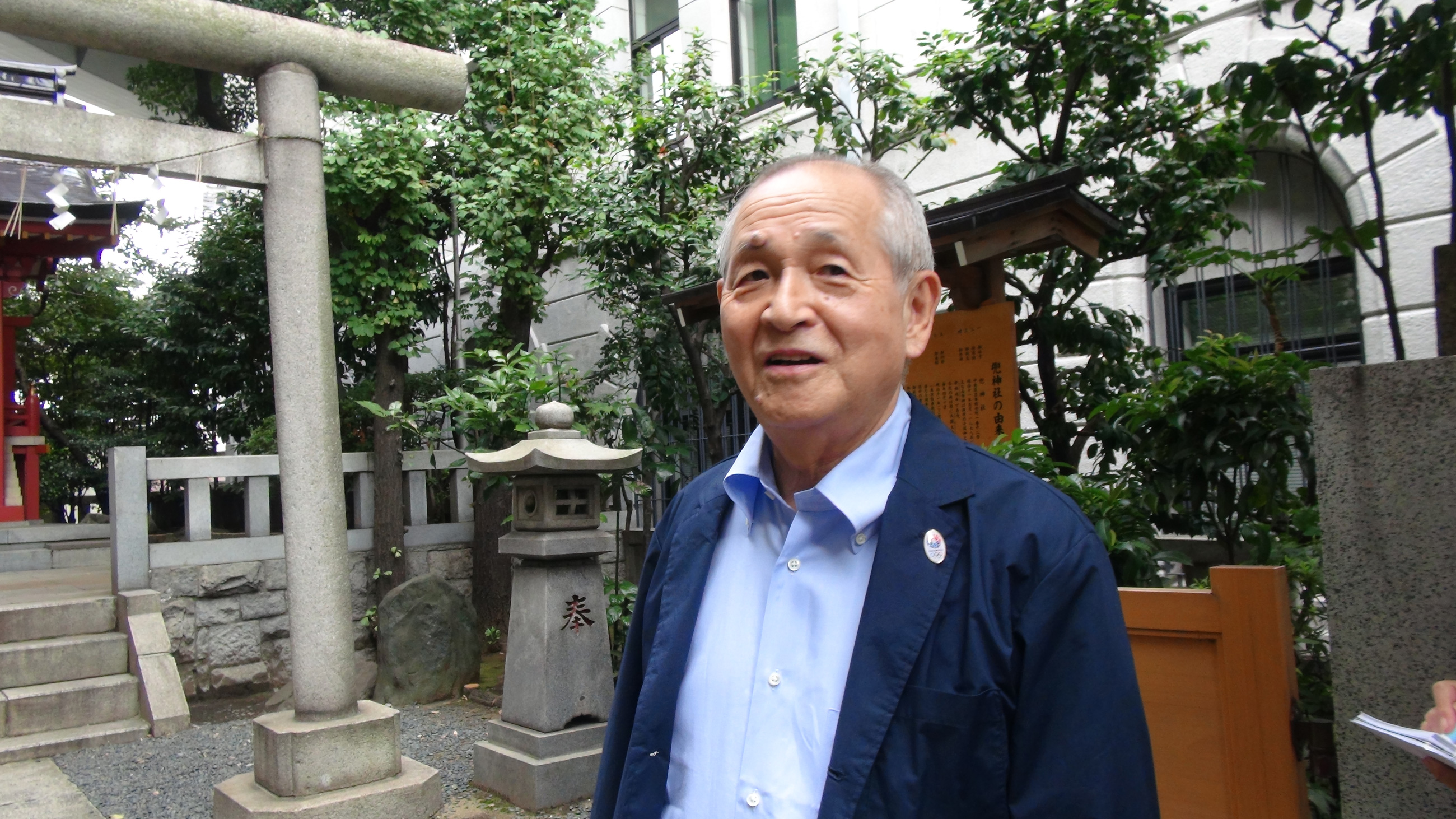 The town that developed with Japan's financial economy
Nihombashi Kabutocho / Nihombashi Kayabacho
Mr. Teruyuki Anzai, Chairman of the Nihombashi Shichinobe Town Council Association
---
Where the atmosphere of "downtown Ginza" remains
Anyone who likes historical plays set in Edo must be familiar with the name Hacchobori. It is an area where Yoriki and Doshin* lived, who served in law-enforcement and police duties, making Hacchobori synonymous with these people. Suzuran Dori, which lie north and south from Hacchobori to Nihombashi Kayabacho used to be a busy street called "downtown Ginza".
*A warrior rank which was responsible for maintaining security and cracking down crimes in the Edo period. Clad with chic clothes and wearing a distinctive top knot, they were popular figures in town. Yoriki, sumo wrestler and the head of firemen were called "the Three Men of Edo".
Suzuran Dori before the Great Kanto Earthquake in 1923 was very popular among boatmen and sailors arriving in the port of Echizenbori (a channel which used to be at today's Chuo Ward Shinkawa). They must have quite enjoyed themselves by refreshing at a public bathhouse, shopping on the street, and having a drink at a bar. The area continued to attract people and still had many entertainment facilities like cinemas, playhouses, and dance halls until the mid 1950s. I was still a child then but remember very well about the liveliness of the town and its atmosphere.
Many of the shops have disappeared from the area around Suzuran Dori and Nihombashi Sakura Dori where I live, and there are more office buildings today. But one can still feel the reminiscence of downtown from the townscape dotted with vegetable shops, yakitori shops, and cafes. Sakura Dori is lined with over 160 cherry trees and is famous as one of Nihombashi's cherry blossom viewing spots. It only takes ten minutes by walk from Tokyo station, the main entrance of Tokyo. I recommend you to come visit the place during the cherry blossom season.
---
Japanese Wall Street
Nihombashi Kabutocho is like Japanese Wall Street, having Tokyo Stock Exchange and many securities companies. During the economic bubble in the 80s when Japanese economy was booming throughout the nation, the town was literally overflowing with people. The town no longer has the same vigor after the bursting of the bubble economy, but it still retains a unique atmosphere with the signboards carrying the names of security companies lining both sides of the street. I feel the current of the times with an increasing number of signboards carrying the names of foreign capital security companies.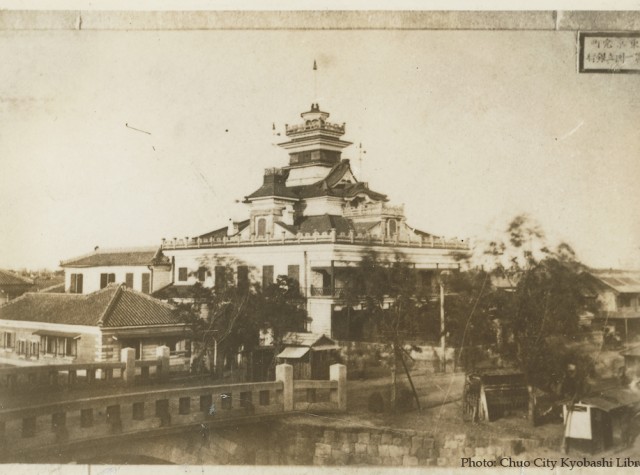 The first Japanese bank was also established in Nihombashi Kabutocho. The name plate is the only thing that remains of this bank now but the Japanese financial economy cannot be discussed without the existence of Nihombashi Kabutocho. Eiichi Shibusawa, the father of Japanese capitalism who was involved in the establishment and operation of various corporations including The First National Bank and Tokyo Stock Exchange also lived around here. His elegant western architecture residence was depicted in a postcard as one of Nihombashi's sightseeing spots.
---
Dotted with "birthplaces" among buildings
Spots that convey the history of Nihombashi dot among office buildings and found on alleys, which is another characteristic of this town. For example, Sessha Hie Shrine is a historical temple which was designated as Otabisho* of Akasaka's Hie Shrine in the Kanei era (between 1624 and 1645), but its approach is in a narrow path in between buildings that it can be easily missed if one is not careful. Still, one step in the precinct, there is a different world surrounded by trees. It is not a large space but it still has a solemn atmosphere.
*A place a deity (usually a mikoshi, an ornate palanquin-like portable shrine carrying the spirit of Shinto shrine deity) takes a rest or stays over during a shrine's festival.
Also in the Kabutocho area are Sakamoto Primary School, the first state primary school as well as the birthplace of postal services. By the way Sakamoto Primary School is still present today, although the number of children from this area has declined and most of the children come from the Tsukishima area by school bus. I cannot help but feel the current of the times.
---
Tourist spots in the Nihombashi Shichinobe area
TSE Arrows

Anyone can visit and view inside TSE Arrows, an information corner set up in the Tokyo Stock Exchange complex, simulate investing in stocks and shop at the museum. In addition to English and Chinese audio guidance, a tour is conducted in English from 1 p.m. or 2 p.m. (available from one person, prior reservation required by phone).

Location: 2-1, Nihombashi Kabutocho, Chuo-ku, Tokyo
Tel: 050-3377-7254 (Direct line for tour reservation)
Access: 5 mins. by walk from Kayabacho Station on the Tokyo Metro Tozai Line, 7 mins. by walk from Kayabacho Station on the Tokyo Metro Hibiya Line

Sessha Hie Shrine

Meitoku Inari Shrine

A temple with a long and distinguished history continuing from the early Edo period and is well cared for by the community. Inari Shrine also stands in the same precinct. Surrounded by trees, it provides a good place for a rest from a stroll in the town.

Location: 1-6-16, Nihombashi Kayabacho, Chuo-ku, Tokyo

Birthplace of Bank

Japan's first bank, First National Bank was established here in 1873. Today a built-in plate placed on the wall of Mizuho Bank's Kabutocho branch is the only thing that remains of this first bank, but the original building which used to stand at the foot of Kaiun-bashi Bridge was a famous building with its magnificent architecture combining Japanese and Western styles.
---
---