HOME >
The town that flourished ・・・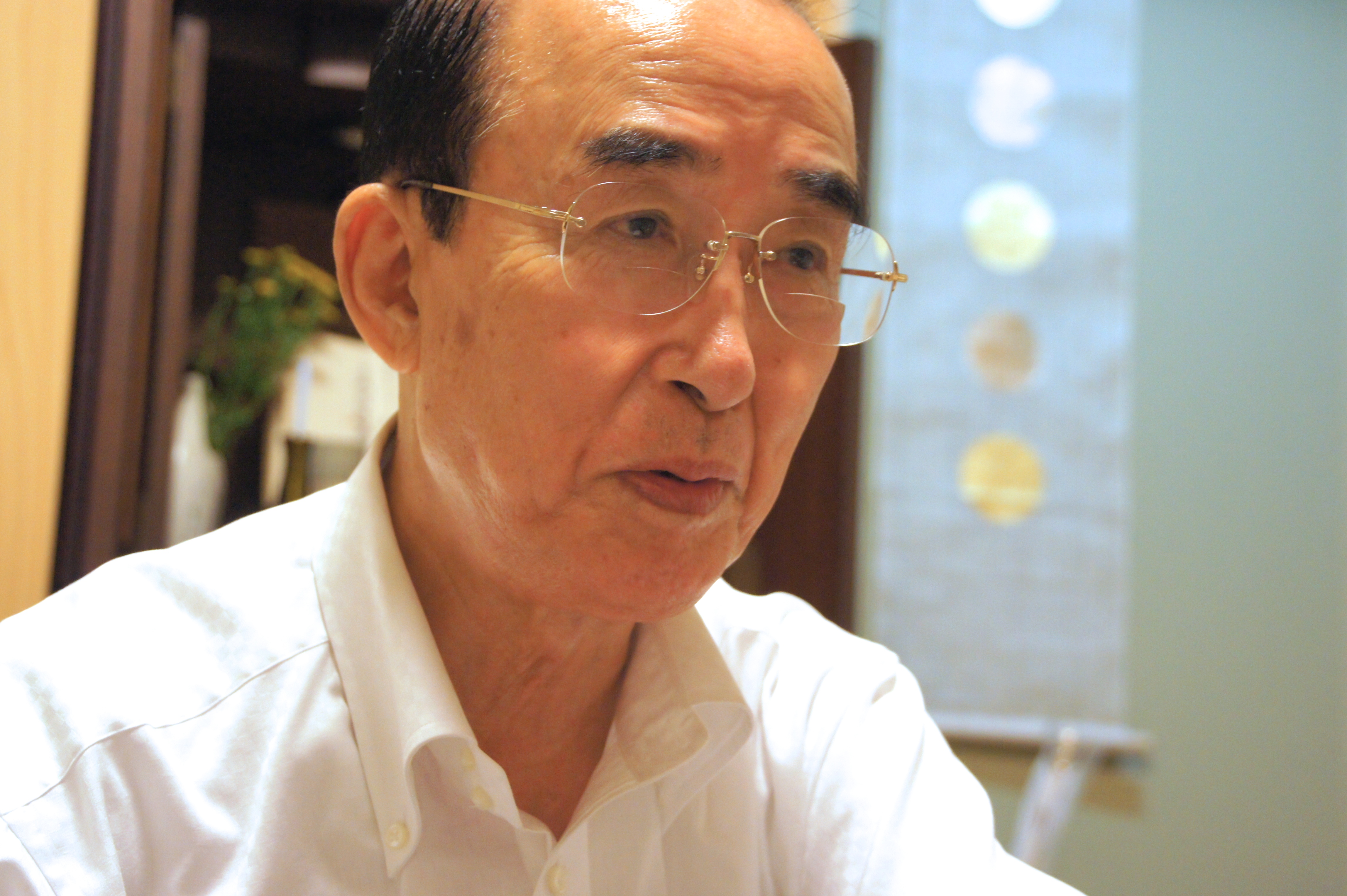 The town that flourished as a main spot for water transport
Nihonbashi Ningyocho (1-Chome - 2-Chome) / Nihonbashi Kakigaracho / Nihonbashi Hakozakicho / Nihonbashi Koamicho
Mr. Kosuke Nakano, Chairman of the Nihonbashi Sannobe Town Council Association
---
Nihonbashi is a proud town. That is why we adhere to its name.
Names of towns have had their own respective roots since ancient times. For example, Teramachi ("temple town") was named so because it was part of a castle city with many temples. Even those who do not know this town can imagine its historical background just by its name. Nihonbashi particularly has many town names with history and tradition as it developed as the center of commerce since the beginning of the Edo period. Here remains many historic town names such as Ningyocho; the town where many doll makers lived, Odenmacho; the town with the homes of those who were responsible for arranging people and horses for those travelling on official business, and Honkokucho; the town where many who sold rice and other grains lived.
The towns were divided into blocks from 1975 to 1987 with the sequential adopting of an address system where addresses were represented by block codes and house numbers. This led to the disappearing of many old town names. Town names in Nihonbashi also started to change in the mid-seventies but committees were formed to hold questionnaire surveys on its residents in opposition to these changes. As a result, the name of Nihonbashi and the names of many of its ancient towns such as Nihonbashi Koamicho were preserved. This shows how much pride and affection the residents of Nihonbashi have for its name.
---
Boats on the surfaces of the rivers and white-walled storehouses at the riverbanks
The town name of Koamicho is said to have derived from the fact that fishermen who pulled the nets and submitted their catches to the shogun for inspection were ordered to present white fish. These privileged fishermen had a custom of hanging their nets to dry on a street corner of 1-Chome. These fishermen were likely there at around the early Edo period. Since then, this area developed as a main spot for water transport due to the nature of the locality of the Nihonbashi River*1.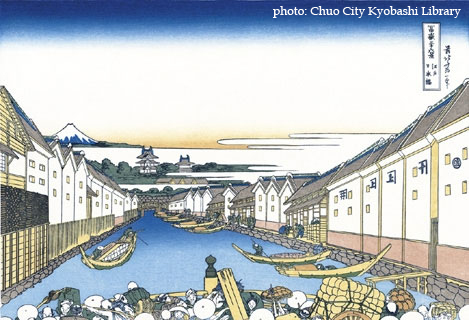 It is said that the prices of land in Nihonbashi Koamicho and Nihonbashi Kodenmacho were high in Edo. This is because these locations had many sake wholesalers, soy sauce wholesalers, and wholesalers that handled cargo boats, and both sides of the river were lined with white-walled storehouses. There were still some remaining riverside storehouses when I was a child along with pop pop boats*2 and ferry boats on the surface of the water that went to and from Gyotoku in Chiba Prefecture.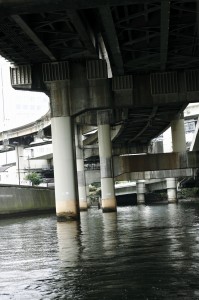 Unfortunately, Nihonbashi River today is surrounded by expressways. It is a shame that the once time-honored scenery of Nihonbashi is all gone. Anti-highway movements have begun in an effort to bring back the beautiful scenery and sky. I know it will take time, but we will not give up.
*1 A class A river that flows through Chiyoda Ward and Chuo Ward in Tokyo. The Nihonbashi Bridge spans over the downstream area. It underwent multiple irrigation works from the fifteenth to the seventeenth century before its current flow channel took form.

*2 A boat that runs on a hot bulb engine. It was named after the sound that its engine produces.
---
Passing the town's cordiality on to the next generation
The reason why there are so many Inari Shrines in Nihonbashi Koamicho with the Nihonbashi Koamicho Town Council office being located in an Inari Shrine may be because it was a merchant town. The founder of the Higeta Shoyu soy sauce company and major landowner, the Hamaguchi Family, made donations to the land and town council in hopes of preserving the Inari Shrines.
There are no landowners that are as generous as they were anymore, but there are still town council activities for looking after the town going on now in the twenty-first century. The Nihonbashi Sannobe Town Council Association consists of fifteen town councils and they are engaged in various activities such as cleanup activities, bus hikes, Bon dance festivals, and children's festivals. The pounding of rice cakes held every year is a popular event, and we were able to gather five thousand pieces of rice cake last year, which was enough to pass out to tourists. It is my hope that activities like these are one way of passing the town's cordiality on to the next generation.
The Nihonbashi Koamicho area today is closer to an office district. But still, you can feel its history and nostalgic atmosphere because of its establishments such as old-fashioned restaurants and old structures. You cannot live on history alone, but history cannot be bought with money. It is also close to Ningyocho, where you can go shopping while enjoying the nostalgic Edo atmosphere, so I hope more people would walk through the Sannobe area while discovering the history and appeal of Nihonbashi.
---
Tourist spots in the Sannobe area
Amazake Yokocho

Named so after passing through the entrance to a narrow road and finding an amazake shop. Plenty of unique stores such as taiyaki shops lined with customers and old established Japanese restaurants. There are also many shops that place chairs out in front of their establishments so that you can rest - letting you feel the hospitable downtown atmosphere.

Location: Nihonbashi Ningyocho 2-Chome, Chuo-ku, Tokyo
Access: 1 min. by walk from Ningyocho Station on the Tokyo Metro Hibiya Line, 2 mins. by walk from Suitengumae Station on the Tokyo Metro Hanzomon Line, 2 mins. by walk from Ningyocho Station on the Toei Asakusa Line, 2 mins. by walk from Hamacho Station on the Toei Shinjuku Line

Koami Shrine

A shrine known to provide good luck and ward off evil. The only remaining Shrine in Nihonbashi made of cypress due to damages from war, and a cultural asset of Chuo Ward. The carving of the dragon below the roof of the shrine pavilions is truly a sight to see.

Location: 16-23, Nihonbashi Koamicho
Access: 5 mins. by walk from Ningyocho Station on the Tokyo Metro Hibiya Line, 7 mins. by walk from Ningyocho Station on the Toei Asakusa Line, 10 mins. by walk from Suitengumae Station on the Tokyo Metro Hanzomon Line

The Seven Gods of Luck in Nihonbashi

The Seven Gods of Luck are the ones that govern luck. Worshipping them started to spread as a folk belief at around the mid-sixteenth century, and they are still worshipped throughout the country today. Paying them visits is also a popular activity. The Seven Gods of Luck in Nihonbashi are Suitengu (Benzaiten), Koami Shrine (Fukurokuju), Chanoki Shrine (Hoteison), Suehiro Shrine (Bishamonten), Kasama Inari Shrine (Jurojin), Matsushima Shrine (Daikokuten), Suginomori Shrine (Ebisu Okami), and they can all be visited on foot in about two hours.
---
---