HOME >
The town where Edo's culi・・・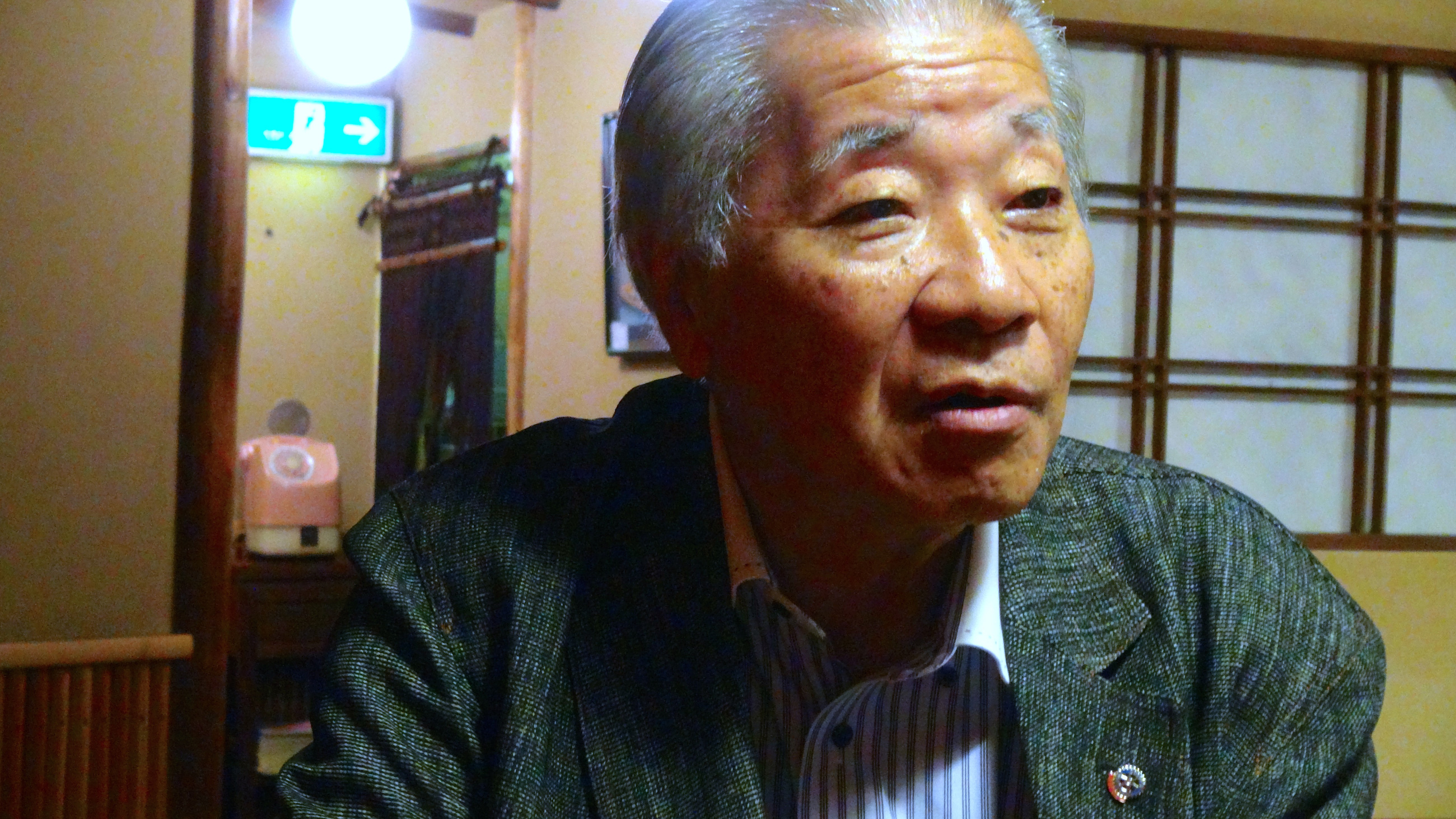 The town where Edo's culinary culture blossomed
Nihombashi Honkokucho / Nihombashi Muromachi / Nihombashi Honcho
Mr. Yasuyuki Wakui, Chairman of the Nihombashi Ichinobe Town Council Association
---
Edo, the world's biggest metropolitan city
The population of Edo exceeded one million in the early 18th century. Since the population of Paris was 54 thousand, London 86 thousand, and Beijing 90 thousand at that time, Edo was truly the world's biggest metropolitan city both in name and reality. Of the towns of Edo particularly vibrant was Nihombashi. What is the Nihombashi Muromachi and Nihombashi Honcho area today had large shops lining both sides of the streets which are often depicted in ukiyo-e paintings as well. There was also a fish market near Nihombashi which served as a kitchen of Edo. Nihombashi was truly the birthplace of trading and the center of commerce.
Close to Fukutoku Shrine, on the alley leading from Nihombashi Odori at Muromachi 3-Chome to the east stood a famous restaurant Momokawa-roe, where the Americans arriving in Japan on board the ship commanded by Matthew Perry in 1853 were entertained. Unfortunately, Momokawa-roe no longer exists but there are still a number of shops in Nihombashi which have been in business as long as Momokawa-roe or even longer. It is simply amazing that these shops have stayed in business from the Edo period until today in the 21st century.
---
"Gourmet guide books" also existed in the Edo period
Signature Japanese foods famous throughout the world like sushi and tempura were developed also in the Edo period. Nihombashi was a frontier also in the area of food. There must have been many food connoisseurs in Edo, as today's equivalent of gourmet guidebooks had been printed.
What is interesting is that the word "Edo-mae" was a set epithet of eel. Today the word "Edo-mae" is followed by sushi and how the shift from eel to sushi came about is unknown, but we can still tell that the people of Edo were proud of the word "Edo-mae". Incidentally, "shopping guidebooks" also existed. It certainly is intriguing to find out who and how such guidebooks were used.
---
How Kabayaki grilled eel was born in the 1700s
"Edo-mae" eel became a big hit in Edo in the 1700s. At its peak there were over 200 unagi eateries, and despite eel was ten times more expensive than soba noodles, it appears to have been quite popular.
The cooking technique of splitting up and grilling eel is unique to Japan and it required an expert's hand to do so. To split up an eel skillfully, a very sharp knife is essential, and the knife to especially cut eel was developed in the 1700s. Soy sauce and mirin cooking rice wine are also essential ingredients in the preparation of kabayaki. The brewing techniques and the culture of soy sauce and mirin have deep ties with the eel.
Kabayaki's appetizing smell is in a way, the smell of traditional culture. I will be delighted if people from overseas could also have the feel of Edo culture while enjoying this savory dish.
---
Tourist spots in the Nihombashi Ichinobe area
Bank of Japan / Institute for Monetary and Economic Studies, Bank of Japan CURRENCY MUSEUM

Bank of Japan is Japan's central bank. The construction of its main building started in September 1890 and completed in 1896. It was specified as an important cultural asset in 1974. Nihombashi was selected as its site because it was a starting point of the five major highways, and also because Nihombashi had many money exchangers from the Edo period and continued to be a financial center through to the Meiji era.
At the CURRENCY MUSEUM which is located next to the head office of the Bank of Japan, visitors can learn about the history of Japanese currency from the ancient times to date, see various coins and notes from around the world and even experience how much one hundred million yen weighs in notes.

Institute for Monetary and Economic Studies, Bank of Japan CURRENCY MUSEUM
Location: 1-3-1, Nihombashi Honkokucho, Chuo-ku, Tokyo in the Bank of Japan pavilion
Hours: 9:30 a.m. to 4:30 p.m. (final admission 4 p.m.)
Closed: Mondays (excluding public holidays)
Access: 2 mins. by walk from Mitsukoshimae Station on the Tokyo Metro Ginza Line, 1 min. by walk from Mitsukoshimae Station on the Tokyo Metro Hanzomon Line, 8 mins. by walk from the Nihombashi exit of JR Tokyo Station

Fukutoku Shrine

Location: 2-4-14, Nihombashi Muromachi, Chuo-ku, Tokyo
Access: 3 min. by walk from Mitsukoshimae Station on the Tokyo Metro Ginza Line or Hanzomon Line

COREDO Muromachi 1, 2, 3

A commercial complex consisting of three buildings from No. 1 to No.3 and has shops ranging from old established shops laden with Nihombashi's history to popular latest shops. Visitors can enjoy craftsman's skills from various parts of Japan and enjoy the food in Japan. Buildings' interiors offer visitors a relaxing feel like an old-style Japanese house, decorating the walls using Japanese patterns and so on.

COREDO Muromachi 1
Location: 2-2-1, Nihombashi Muromachi, Chuo-ku, Tokyo

COREDO Muromachi 2
Location: 2-3-1, Nihombashi Muromachi, Chuo-ku, Tokyo

COREDO Muromachi 3
Location: 1-5-5, Nihombashi Muromachi, Chuo-ku, Tokyo

Hours: Differs for each shop
Access: Near the Exits A6 and A4 of Mitsukoshimae Station on the Tokyo Metro Ginza Line or Hanzomon Line, directly connected to Shin-nihombashi Station on the JR Sobu Rapid Line

Nihonbashi Information Center

As concierges of Nihombashi, it introduces visitors the latest information on Nihombashi including tourist spots, shops, and events. It also has a cafe with Japanese concept and a Japanese souvenir corner next to it. Canadian, American, and Spanish native speakers as well as Chinese speaking concierges help out visitors.

Location: 2-2-1, Nihombashi Muromachi, Chuo-ku, Tokyo, the 1st basement of COREDO Muromachi
Hours: 10 a.m. to 9 p.m.
TEL: 03-3242-0010
Access: Directly connected to Tokyo Metro Mitsukoshimae Station

Nihonbashi Mitsukoshi Main Store

Established in 1673 as a draper "Echigoya", it became the first Japanese department store in 1904. The Renaissance style building built in 1935 was as large as the parliament building at the time, and it is specified as Tokyo's historical structure today. The statue of a lion at the main gate is a symbol of Nihonbashi Mitsukoshi which marked its 100th year in 2014. The statue of an angel at the hall in the first floor and the gorgeous vaulted ceiling made of marble stone and stained glass are also sights to see.

Location: 1-4-1, Nihombashi Muromachi, Chuo-ku, Tokyo
Access: Directly connected to Mitsukoshimae Station on the Tokyo Metro Ginza Line
---
---